I've found that I have a much easier time with my Queen Song of the Week posts if I have some sort of theme. It's so much easier to pick a RT solo song because it's his birthday or to just go through the set list of a concert, like I did with the 1975 Hammersmith Odeon Christmas Eve show. The alternative is just plucking a song out of thin air and when a band's catalog is as massive and prolific as Queen's that can be a rather daunting task, even for the biggest of fans!
A possible solution was to feature all of the songs on one of Queen's albums. But which one? I mean, there are 15 (excluding The Cosmos Rocks which was recorded with Paul Rodgers in 2008).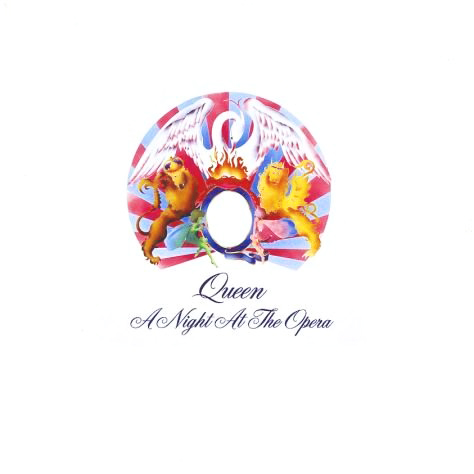 Image courtesy of Queenpedia.com
Finally I decided to go with the obvious choice: A Night at the Opera. Widely considered Queen's masterpiece, there's actually an entire special dedicated to the recording of this album (click
here
to purchase or alternatively for all you
Netflix
users, it's available in your instant queue!). Completely coincidentally, as I was writing this post, I realized that VH1 Classic was airing this special! I, of course, rewatched it!
I've already featured several songs off A Night at the Opera (click
here
for I'm in Love with my Car,
here
for '39, and
here
for Bohemian Rhapsody, but the album contains nine other tracks that deserve a little love themselves!
So let's start at the beginning: Death on Two Legs (Dedicated to...) was written by Freddie Mercury and is the first track on Queen's 1975 album A Night at the Opera.
Video courtesy of spaccapassa
The song itself is supposedly written about the band's former management. At the time that A Night at the Opera was recorded, Queen had already released three albums and several popular singles. However, the band was not receiving the royalties that they were expecting and wanted to know why. Prior to recording A Night at the Opera, the band signed with new management who instructed them to go into the studio and record, they'd deal with the contract issues.
Nearly the entire band has spoken about the lyrics of this song. I find it rather amusing since they describe the lyrics as vicious and mean, but honestly, they aren't that bad. I mean, they aren't
nice
, but they aren't so bad that Dr. May should have felt uncomfortable singing them, as the story goes. I guess Dr. May really just is a really nice guy! Personally it makes me laugh when Freddie sings, "Shark," and I always imagine him imitating a fin on his head with his hand.
Here's
a link to the lyrics: what do you think? Am I just desensitized to mean lyrics?
In 1976, Freddie told Sounds magazine, "
When the others first heard it they were in a state of shock. When I was describing it they went, Oh yeah, and then they saw the words and they were frightened by it. But for me the step had been taken and I was completely engrossed in it, swimming in it. Wow! I was a demon for a few days.
The album needed a strong opening and what better way than to have the first words, 'You suck my blood like a leech'? Initially it was going to have the intro and then everything stop and the words, 'YOU, SUCK, MY' - but that was going too far."
The opening of this track is amazing and considered by many fans (myself included) to be the best opening song on any Queen studio album. It perfectly sets the stage for what the listener has in store for them with the perfect combination of drama and heaviness.
Queen's influence continues to grow, even now nearly twenty years after Freddie Mercury's death. Just this week, VH1 named Queen #17 on its list of the
Greatest Artists of All Time
. Back in 1998, Queen was ranked #33 on the
same list
. Maybe by 2022, they'll be #1!
Happy Listening!