We've been working our way through the songs on Queen's 1975 release A Night at the Opera, but I hope everyone will indulge me this week and allow me to make a slight detour.
You see, on Monday night, I was channel surfing and came across the 1980 film
Flash Gordon
. Unfortunately I missed most of the movie, but managed to catch the last twenty minutes.
Why is this relevant?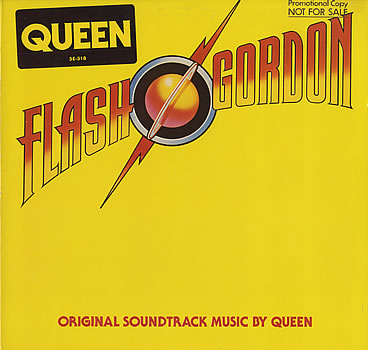 Image courtesy of Queenpedia.

Because in 1980 Queen performed all the music in the movie Flash Gordon and released the soundtrack as their 9th studio album. That decision was probably unwise as the album really only contained two full length tracks. Ultimately the album peaked at #10 on the U.K. charts and #23 in the U.S., rather low considering the band was coming off the recent high of their #1 album The Game (also released in 1980).
Nearly everyone has heard the famous theme from Flash (aaah aaah) which has been used in everything from Will Ferrell's figure skating film
Blades of Glory
to the
Family Guy
(click
here
to view). But the second proper song on the album, The Hero, is also quite catchy.
The Hero was written by Dr. May, who had taken a particular interest in the soundtrack for the film. He wrote much of the music himself and received an individual producing credit for the album, the first and only time that "Queen" wasn't given the production credit.
Video courtesy of DavidRFuller.
I actually first heard this song ages ago and didn't particular care for it.
Actually, the truth is that I had just watched
Observe and Report
, a totally horrendous Seth Rogan movie. I knew that it featured some Queen songs because I recognized the harmonies, but I didn't know which songs. On the imdb page, "It's Late" and "The Hero" were referenced so I listened to both in an attempt to track down the song I had liked so much.
Turns out that "It's Late" was the song featured at the end of the movie that caught my attention so I never really gave a second thought to "The Hero" (and "It's Late" has subsequently become one of my favorite Queen songs so "The Hero" really had the odds stacked against it.)
But something about the ending of that movie and the awesome drum intro really grabbed me and now I wonder how I could have possibly listened to this song and not loved it!
In retrospect, I'm also disappointed that I didn't walk down the aisle to Dr. May's version of the wedding march, also included on the soundtrack (click
here
to listen). Clearly this is an opportunity for Husband and I to renew our vows someday (or when I marry RT. Whichever...)
Happy Listening!